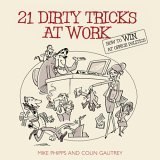 21 Dirty Tricks at Work is about lies. The type of underhand, pernicious and downright Machiavellian scheming that goes on in business every day. An estimated £7.8bn is lost each year in the UK alone through unnecessary and counter-productive office politicking. But 21 Dirty Tricks at Work is also a book of hope. It exposes the classic political manoeuvres and gives practical advice on dealing with them to the vast majority who just want to do a good day's work.
21 Dirty Tricks at Work provides you with all the information you need to spot negative tactics and self-interested strategies. It shows you how to spot the games being played and how to come out with your credibility intact and your sanity preserved.
So, if you are fed up of being on the receiving end of constant back-biting and skulduggery, read 21 Dirty Tricks at Work and get Machiavelli on the run!
Author's note:Since first publication, this book has helped people of integrity understand what is going on around them, and then has helped them to work out what to do. Based on the regular contact we have from our readership, it is clearly worked, as we knew it would. We are thrilled to learn that sales of this deceptively informative book are growing year on year. To get a taste for what we have covered, take a look at the summaries. Hopefully, we can welcome you as a reader soon.
---
Workplace Politics Resource Centre
If you would like to see the full catalogue, and get advice on how to counter these games and dirty tricks, take a look at the resource centre where we have arrange a great deal of valuable material to help you to manage the politics.
These include, two full webinar replays, plus many other practical articles:
Dirty Tricks and Office Politics (full hour webinar replay).
Handling Common Political Dilemmas (full hour webinar replay).
An Antidote to Office Politics (simple process you can use today).
… many more >>:
---
---
---