Last month was, without doubt, one of the most interesting in my professional life to date.
During the month, I interviewed and engaged with hundreds of people in my network, as part of the preliminary research for my next book.
What made it so fascinating, were the responses I got to two key questions:
From your perspective, what are the key challenges facing talented people when it comes to influence?
What do you notice the exceptional performers doing, that most people are not doing?
Broad questions, but that is part of the fun because it gave free reign to the individual I was talking with to go where they wanted.
The resulting discussions developed a great many incredible insights into how influence is working, or not working, out there right now in large and complex organisations. For instance:
What interns and associates need to do to get tapped (as they say in investment banking).
The emergence of a new glass ceiling that has nothing to do with gender, and everything to do with regulatory risk.
How power is shifting in some of the biggest and most enduring industrial conglomerates.
The curious example of how (in some places) the pursuit of power is vital but must be secret.
Why (and where) savvy people should be attending to their external profiles if they wish to get promoted.
And, many more besides.
While conducting the interviews, I was delighted to see how their experiences verified the many of the principles I have been writing about for years. What is new, is the way these examples make the principles relevant to talented and ambitious professionals working in big organisations, right now.
So, with my interest more than a little piqued, and my curiosity well and truly stirred, I am going to invest a lot more time and energy into learning more from as many people as I can. I am also going to be sharing a lot more too, especially with those who are willing to pitch in and contribute to my research.
How to Contribute
Read the articles on my LinkedIn profile, and comment, like and share. Especially, add your views and experiences of the challenge presented in the article, so others can learn from you too.
If you'd like to chat about the challenges you (or others) face when it comes to influence, or share your views on what the most successful influencers are doing, invite me to connect and let's fix up a time to talk (in strict confidence).
Keep a close eye on my LinkedIn feed. Over the next 12 months, I will be sharing provocative ideas to test your reaction, and gain your insights. These will be around specific themes emerging from the research.
And finally, if you'd like to tune in to the emerging themes and ideas, make sure to subscribe to the Influence Blog, which will now be focused more on sharing some of these new insights.
Now, this is not a one-way street. As I am learning from you, I hope that you will learn from me too. Of those I have already spoken with, many found the discussion stimulating and useful. The opportunity to put the world to rights, and reflect on what they are doing, in some cases has had a remarkable impact.
And, after you have contributed, I will keep you abreast of developments ahead of formal publication. This may well help you to stay ahead of the game!
Right, that's all for now. I sincerely hope you'll join me in this adventure, and together we can improve the success and happiness of people of integrity in the world of work.
Resources
Subscribe to the Influence Blog to keep up-to-date with emerging insights.
View my LinkedIn profile, contribute to previous articles and invite me to connect.
Look at the latest articles on the Influence Blog that help people to develop their influencing capability.
---
Colin Gautrey is an author, coach, and trainer who specialises in the practical use of power and influence in large organisations. He has 25 years' experience helping middle/senior professionals to survive, thrive and enjoy their work.
If you are ready to develop your influencing capability, become a member of Breakthrough Influence. If you are serious about becoming highly influential, fast, engage with Colin and he will help you get there in the most effective way possible.

Other articles by Colin:
Courageous Ways to Influence People
There are many ways to influence people. Positive ways build long-term relationships, although there is a risk that in the short term you may not get what you want. Negative ways of influence are perhaps more likely to get you what you want today; but in the long run, your influence will wane even faster than your relationships.
This is because the positive ways are focused on doing the right thing by others and helping them to act and take decisions which are good for them — while the negative ones pay little…

---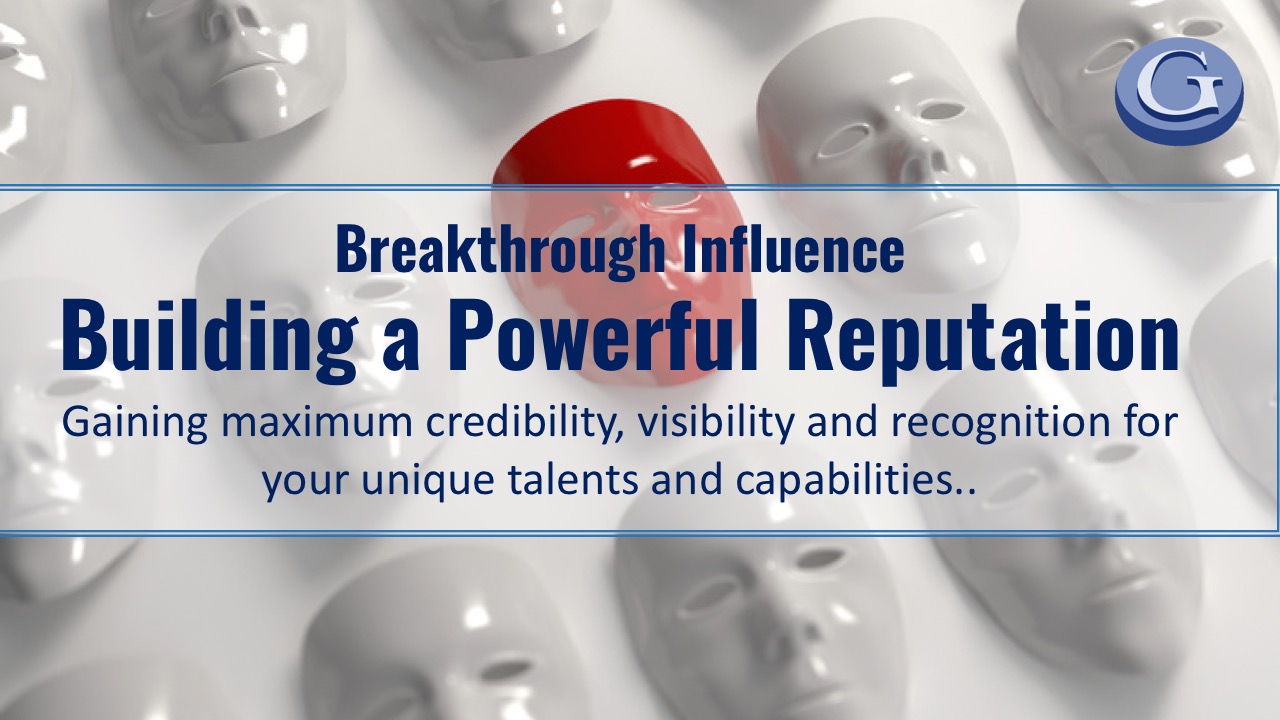 Clarity and focus around what you can contribute is vital if you wish to accelerate your progress and realise your full potential. Carefully assembling the base for your credibility, demonstrating substance, and focusing on your own competitive advantages will enable you to position yourself correctly, with the right people, and reap the rewards.

---
Seven Ways to Become More Powerful
Being powerful enables you to get things done. It encourages people to do what you want them to do, often without you even asking. Generally, people like to please powerful people because of what they may gain, or because they don't want to lose something.
Here are seven ways that you can become more powerful:
Build Greater Networks. The more people you know, the more potential resources you have to call on. These can provide you with useful knowledge, resources or friendly help and support. This needs to be a two-way process, so make sure to make yourself available to help people in your network too. Don't just focus on those nearest to you; get to know people in other parts of your organisation, and those outside of it in related work. Make sure and delicately let others know you have this network (read Five Steps to a Healthier Network and Networking: Missing a Trick? for more ideas).
Acquire Scarce Capabilities. Think about the work that you do and the organisation where you are right now. What does everyone seem to be wanting by way of capability? Perhaps this…

---