As you are developing and working on your Influencing Goals, you need to be aware of what else is going on around you.
It is very easy to become so focused on what you want to achieve that you fail to notice risks until they hit you in the face. Dealing with a risk after it has materialised is not as easy as being proactive and preparing contingency plans or taking action to reduce the impact it could have. Opportunities are somewhat different; they will slip by without you even noticing. The fact that a few simple actions could have substantially improved your prospects will never enter your head.
When I was writing this chapter for Advocates & Enemies, it occurred to me that most approaches to risk management fail to also cater for the opportunities. The diagram at the end of this post is a simple way to organise your thinking and prepare for action. The general idea is to list all of the events which could have a bearing on your goals, either positively (opportunities) or negatively (risks). Then you can plot them on the chart and decide where to prioritise your effort.
But first, compile the risks…
Risk stimulation questions
A good approach here is to start off with the bigger picture and progressively get closer to your actual influencing goals.
What crises could the organisation face in the foreseeable future?
What critical resources could be withdrawn?
Is there something that may change in relevant legislation that might affect what you are doing?
Are there any significant technology considerations which may impede your progress?
If your project wasn't to proceed, what would quickly take its place?
If you were the CEO, for what reasons might you kill your project?
What could happen that would really damage your progress?
Finalise a list of events which could have a negative effect on your goals.
Opportunity stimulation
Again, starting at the bigger picture and moving closer, consider the events which could have a positive impact on what you are doing…
What are all the big exciting projects going on or being contemplated in the organisation at the moment?
Where is all the executive attention at the moment?
If one thing were to happen to immediately make your goal easier, what would it be?
If I gave you one wish (related to your goal), what would it be?
What event could happen which would really accelerate your progress?
Compile and Plot
Now you have a list of risks and opportunities, just place them on the grid based on your estimation of the likelihood and impact. You'll notice that the impact dimension goes from negative to positive and thus allows you to place all of the events on the same page.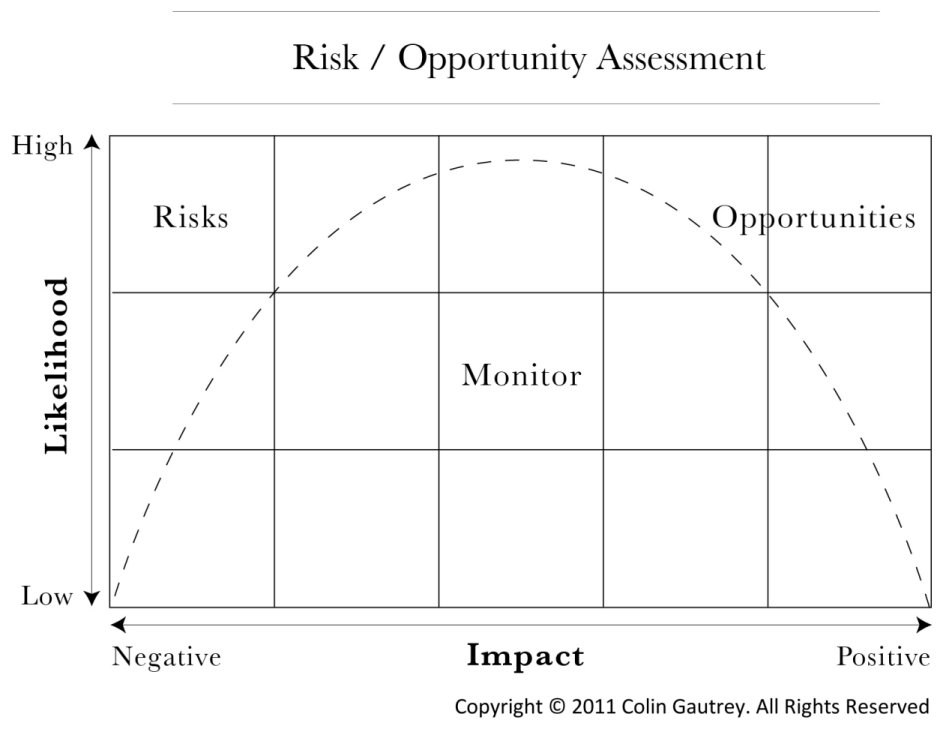 Decide Action
Once you have determined which events could have the biggest impact and are the most likely to occur, all you now need to do is define a clear action plan to respond to the insight. For me, the most exciting prospect is finding opportunities to combine your efforts with another person or project. To an extent, this could mean using the power vested in another big initiative to get your project moving faster. Of course, nobody likes a freeloader, but if you can spot a great opportunity and can also add value along the way, everyone wins!
---
Colin Gautrey is becoming the most sought-after expert in power and influence by ambitious and talented professionals who are serious about accelerating their careers and their results. But, Colin is certainly not for the faint-hearted.
This resource is one of over 500 articles, and 50 hours of video content he has packed into his Breakthrough Influence Series of online courses.

---