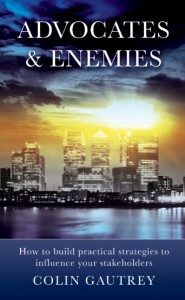 Sorting your Enemies from your Advocates, your Players from your Critics, is just one step in the Stakeholder Influence Process described in this book. Developed by the author while working with executives, leaders, and managers around the world, this process is powerful and simple. It will help you to achieve your goals faster and with greater buy-in. In just one hour you can be up and running with a new strategy to influence your stakeholders.
Don't buy this book if you have the time and inclination for studying theoretical concepts. You'll be disappointed in less than an hour.
Do buy this book if you're in a hurry and want to accelerate your achievements and your goals. You'll be moving faster in less than an hour.
Reviews…
"Colin is very engaging in his workshops and it is great to see the way he has captured his energy and enthusiasm, along with his simple techniques, in such a concise book. I think you're going to enjoy this and I hope it brings you even greater success in the future." Foreword by Dr. Gary Ranker, The Global Senior Executive Coach.
"In today's world of work where traditional organizational hierarchy is less important than your influencing and networking skills, Advocates & Enemies will help you take simple actions to significantly increase your chances of being successful and build collaborative relationships. Colin cuts to the chase and skips the theory." Paul Jon Martin, Global HR Business Partner, Group Operations, Zurich Insurance Company Ltd.
"There is a powerful underpinning integrity to the way that Colin illustrates his insights and expertise. This book is a gem that stands out from the crowd and I would recommend it wholeheartedly." Liggy Webb, author of The Happy Handbook.
"This is a book which contains some simple yet profound truths about our ability to persuade and influence others. It is an important book and its impact should be immense." Damian Hughes, author of Liquid Thinking.
In addition to learning how to use the process, you will also be shown how to: decode organizational power and its impact on decision making, explore conflicting agendas, analyse risks and opportunities and create stronger business relationships. Packed full of simple and practical ideas, it will not take you long to discover something new that you can do to become more successful. It doesn't matter what level you have reached; if you want to become more influential, and you want to make big things happen, this book will help you!
---
Colin Gautrey is an author, coach, and trainer who specialises in the practical use of power and influence in large organisations. He has 25 years' experience helping middle/senior professionals to survive, thrive and enjoy their work.

---