The map we described in Mapping Your Network shows the big picture of the sort of people you need to network with. The second approach is to consider the people you already know and look deeper into these relationships and the potential they have to help you advance your purpose. It helps to unlock the most useful actions to take to move rapidly towards your objectives and save time by avoiding unhelpful networking meetings.
The general idea is that you fix your mind on a particular purpose (e.g. get a specific job role, or to become a conference speaker); then, for each person in your network, place them on the grid and decide what action would help further your objective. Your aim is to increase the number of people in the top right box. Okay, you probably will not be able to fit everyone in, so concentrate on the most prominent people, but check later to make sure you are not missing any opportunities with people you don't know very well yet.
Here's how to assess the dimensions for each individual…
Potential Dimension: Simply how much potential do they have to help you achieve your goal, either directly or indirectly? The greater the potential, the further to the right you should place them.
Relationship Dimension: This is exactly the same as the dimension we use on our approach to stakeholder management (consider the degree of trust, the openness of your two-way communication, and how Frequently you interact with the individual).
And the different strategies…
Keep warm. Don't spend a huge amount of time working with them, but don't risk alienating them either, just in case.
Get referrals. These are your close friends and associates who will be willing to introduce you to others with more potential to help.
Add value. Find ways to increase your closeness or intimacy. Showing how you add value to their work/life will help.
Seek help. Probably all you need to do is ask! But remember to consider reasons why they may not wish or be able to help.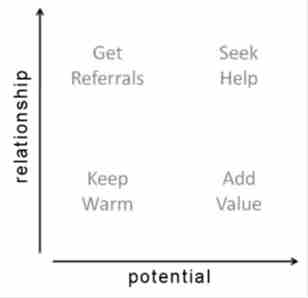 Once you have populated the map, you can then focus your networking effort by using the appropriate strategy with each individual. Although it is natural and important to focus your attention on those whom you will get the most benefit from networking, please don't forget that a key principle in networking is about mutual support, not just selfish taking from your contacts. If you come across as too selfish, your contacts will notice this and may be resistant to giving you the help that they could give. Take a long-term view with greater awareness of where the longer-term payoffs will be.
---
Colin Gautrey is becoming the most sought-after expert in power and influence by ambitious and talented professionals who are serious about accelerating their careers and their results. But, Colin is certainly not for the faint-hearted.
This resource is one of over 500 articles, and 50 hours of video content he has packed into his Breakthrough Influence Series of online courses.

---