Having a good relationship with someone in our network is fine, but what is even better is if they become real fans of our work. Fans and advocates are the people around your network who will take every opportunity to shout positively about you. They will proactively stand up for you, promote your talents and your potential. They will take the initiative and spread the good word and help build your reputation.
Supporters are useful too. They will also have good things to say about you — however, this tends to be only when asked. Advocates will look for opportunities to speak loudly on your behalf.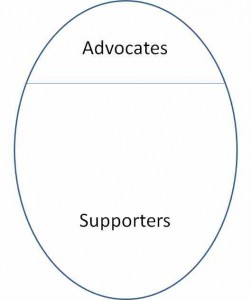 Think about all of the people in your network who you have a good, strong relationship with. To what extent are they merely supporting you or are they highly useful advocates? If you think you need to improve the level of advocacy, focus first on those who also have good potential to help your purpose. If you like, draw a circle and put a line horizontally through the centre. Above the line write the names of those you believe are advocates, and below those who are really just supporters.
When we use the term 'advocate' in regard to networking, we mean exactly the same as we do on the Stakeholder Influence Process Introduction. The only difference here is the influencing goal you are applying. In this case, it is about becoming actively promoted for a particular quality or skill within the organisation.
Here are some ideas to begin stimulating your own thoughts on how to increase the advocacy for you around your network/organisation:
Advocate others. By proactively promoting others in your network, you are more likely to get the favour returned.
Consider competition. In the mind of an advocate or supporter, who else could they promote instead of you?
Become distinctive. What is it about you that can raise you in the mind of potential Advocates
Add more value. Make sure that you continue to add value to your advocates in the area you want them to promote you in.
Give feedback. When someone approaches you as a result of an advocate, find a time to thank your advocate and let them know what happened.
Ask them. Delicately, but in the right way, let them know what you want and even negotiate with them to speak out on your behalf.
---
Colin Gautrey is becoming the most sought-after expert in power and influence by ambitious and talented professionals who are serious about accelerating their careers and their results. But, Colin is certainly not for the faint-hearted.
This resource is one of over 500 articles, and 50 hours of video content he has packed into his Breakthrough Influence Series of online courses.

---