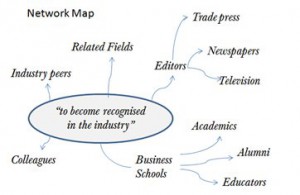 Having a strong and vibrant network brings access to resources, political intelligence, friendly support and, frankly, enjoyable and rewarding relationships. In many ways, success is likely to be short-lived if you have not got the support of a network around you.
The actual activity of networking is really about using your social skills to make new connections, contacts and friends. It is about moving these new relationships from the initial connection (either through work or at an event) into a more rewarding longer-term personal relationship.
Many books have been written on the subject. These mainly focus on the interpersonal activities and how to find opportunities to build connections. What most of them miss is developing a purpose, strategy and the planning needed to build your network. Our research has identified that although most people are getting to grips with networking, what they lack is strategy. This means that people are often attending events so they can 'network', but feel they are wasting much of this time because they have not yet worked out why they are doing it.
Our aim here is to help you to explore these gaps so that you can ensure you are making the most of your precious time.
Developing Purpose
The first step is to consider the question — why are you networking? You'll need to move beyond the reason that you've been told to do it, or it came up on your performance appraisal. Try to get a clear notion of the purpose for all this work. This way, you can use it as a means of deciding which events to attend, which to avoid and who you need to try to get into your network. It will also help you to set goals and targets for your networking and, ultimately, it will help you to realise your ambitions more quickly.
It is usually difficult to arrive at succinct SMART goals for your networking, although that would be ideal. Instead, you may wish to settle for more general aims — you can get more specific once you've started moving.
Example networking purposes:
To become recognised by all members of the board as a valuable contributor to the business.
To attract challenging new work assignments.
To become a well-known figure within the industry.
To advance your career.
To speak at external conferences.
To become even more successful in your job.
If you are finding it difficult to define your purpose, at least settle for the last one in the list above. The only risk with this is that you'll need to be careful to avoid short-term tactical moves which can create short-term success. So, try to focus on the long-term success, if you can.
Mapping the Territory
There are a number of ways to start analysing your networking. Territory mapping is a great way to begin with the end in mind; this explores all the different groups of people who could play a part in achieving your purpose. It is important not to name people at this stage, so that you can keep an open mind to new connections.
Take a step forward in time and imagine you have arrived. What sort of people would have been helpful in your journey? The diagram below is an illustration of how you could draw this out. In this example becoming recognised within the industry could be helped by media editors. Editors like writing about movers and shakers in their industry. They also like to receive articles written by people who know what they're talking about. Basically, they provide a PR platform. The academics could be useful in helping to raise name awareness among people entering the industry. They may also be very interested in putting practitioners in front of their students to share the realities of life in the industry.
The idea here is to move from your purpose to all the different sorts of people it would be useful to know, so that you can give networking a little more direction. For many people, the purpose will be within their organisation, so it would be more suitable to jot down the different key departments or divisions like Sales, HR, Finance, etc. Although it may be tempting to just pull out the organisational structure chart, making your own map will ensure it stays relevant. You may also feel it is important to add any informal groups you are aware of, such as the cycling club?
Once you've mapped the territory in this way, you can then consider how your current network matches. The gaps then become contenders for your time to network!
Taking It Further
Once you've identified the gaps, you can then start to build a plan of action to start closing them. A few ideas…
Favour events which offer the opportunity to meet people in your target groups.
Find ways of reaching out to these groups and begin to make connections.
Identify where they 'hang out' and get down there to see what's happening!
Look for others in your network who can introduce you to these missing groups.
Be clear on what your proposition is for each group; then develop your elevator pitch specific to that group.
Which networking events can you drop? Okay, maybe a bit radical, but you know it could make sense!
Who should you be spending less time with? Okay, just as radical, but time is money and if they aren't likely to be helpful in your pursuit, challenge yourself.
Just one final thought. Most of the people I talk to who have this nagging feeling that they should be networking more effectively are busy people. They don't have to look hard for other ways to spend their time. After talking to them for a few minutes, it becomes apparent that they see it as an overhead of little value. Injecting purpose quickly adjusts the priorities and they realise they already have all the skills they need; what was missing was the motivation to get on with it.
---
Colin Gautrey is becoming the most sought-after expert in power and influence by ambitious and talented professionals who are serious about accelerating their careers and their results. But, Colin is certainly not for the faint-hearted.
This resource is one of over 500 articles, and 50 hours of video content he has packed into his Breakthrough Influence Series of online courses.

---