Without doubt, this is probably the key skill which will save you from making big mistakes in the project and influence game. This exercise will help you to understand what your options are based on the risks you face and perhaps, the opportunities you may be missing!
NB: Don;t forget to print out (or draw) the diagram below and map out your risks and opportunities.
Think carefully about…
Identify the most important opportunity or risk that you need to work on…
Who can help you gain a better understanding of this?Would it be appropriate to build a full Stakeholder Map to handle this particular event?
What actions can you take now to move the likelihood of a risk down and an opportunity up?
What actions can you take now to move the potential impact it could have on your project (either up or down as appropriate)?
What would indicate that a risk is growing in likelihood or impact?
What action will you take if the event occurs?
Repeat the last set of questions for each risk or opportunity you need to work on right now.Make sure to review your risk grid on a regular basis by asking the questions:
What's changed? What else should I be doing?
And don't forget that this is an ideal process to use while engaging with your stakeholders. Gaining their views, getting their buy-in to the actions, and even taking action themselves are great opportunities to build your credibility and move forward your goals – and theirs!
Risk/Opportunity Grid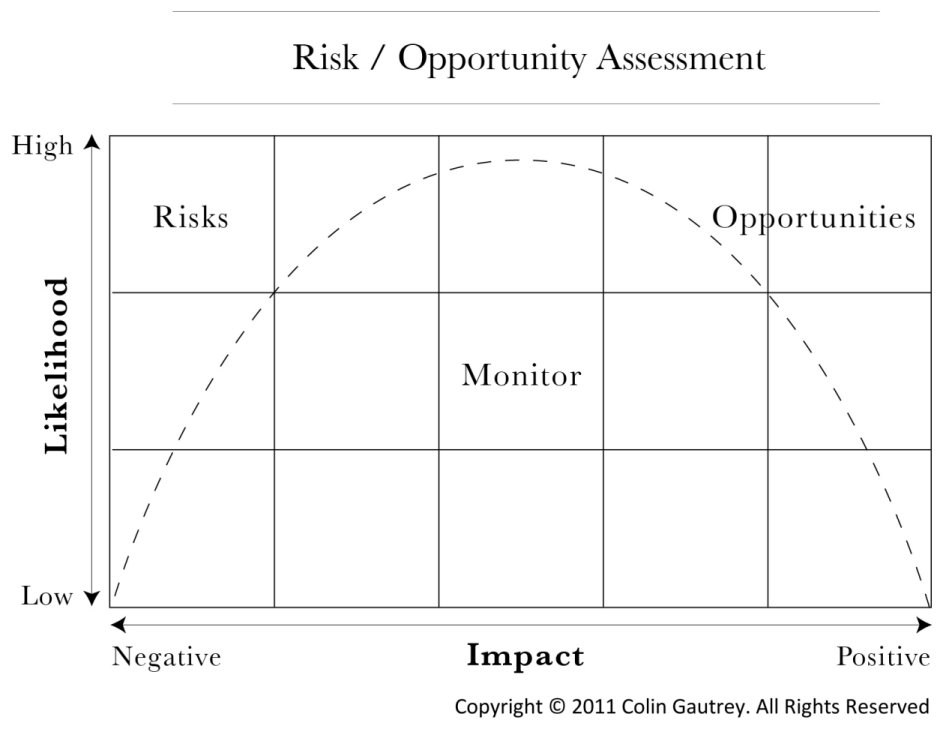 ---
Colin Gautrey is an author, coach, and trainer who specialises in the practical use of power and influence in large organisations. He has 25 years' experience helping middle/senior professionals to survive, thrive and enjoy their work.
If you are ready to develop your influencing capability, become a member of Breakthrough Influence. If you are serious about becoming highly influential, fast, engage with Colin and he will help you get there in the most effective way possible.

---