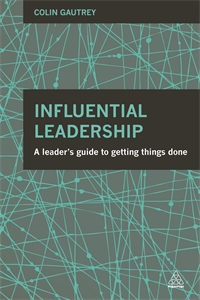 After many months of research and writing, my fourth book, Influential Leadership: A Leader's Guide to Getting Things Done is out. It is the culmination of over ten years of practical experience helping thousands to become more influential.
From the back cover:
Influence is the route to getting things done and allowing leadership to flourish. This book is about action, results and leadership. Using a simple new framework, it shows you how to make the sort of progress in your work that your organization wants and needs. At the same time, this progress will give you the space to become a real leader; a leader who is strong, inspirational, and able to drive the results your company needs, while keeping your people on board. One of the best ways to create the time you need to get results and get ahead is to become highly influential – that way you don't have to do it all yourself. Influential Leadership shows you practical ways to become more influential and create the time you need to be the most effective leader you can be.
Endorsements
Here's are some of the many endorsements it has received:
"You can't be a leader without influence. This book crisply delivers the advice you need to become influential, fully tapping and utilizing your power to make a difference. It gives you plenty to think about – and act on."
Allan R Cohen, Distinguished Professor of Global Leadership, Babson College, and co-author of Influencing Up. 6th May 2014.
"Most books about leadership are either grounded in theory and research with little practical application, or offer advice that is limited to the company and sector with which the author is familiar. In contrast, Influential Leadership is replete with succinct, shrewd insights to leaders and future leaders about how to make things happen in their own organizations, regardless of its size or industry."
Steve Kerr, Director, Harvard Business Press, 24th April 2014.
"The Gautrey approach to influence has been a core, and the most highly rated, part of our Top Leadership development programme. This book comprehensively and coherently sets out an approach which enables managers to lift their eyes above the daily struggle and become transformational  leaders. On the basis of our experience I personally commend it to managers who aspire to develop their leadership skills, working at any level and in any scale of organisation."
Catriona Renfrew, Director Corporate Planning and Policy, NHS Greater Glasgow and Clyde, 7th May 2014.
"Colin brings you a wealth of practical experience, insights, thought provoking questions and top tips to help you become a more influential leader.This is a highly readable and actionable book which will help you influence others positively to get things done! In Influential Leadership you are treated to a wealth of sound wisdom, deep knowledge, observation from successful leaders and experience both of what works and most importantly what doesn't!R ead, learn, apply and make progress."
Jonathan Perks, MBE, Honorary Visiting Professor in Leadership, Cass Business School Author of Inspiring Leadership. 5th April 2014.
"This book offers a refreshing and different approach compared to more academic texts. Down-to-earth and practical guidance based on a clear behavioural framework."
Dr Paul Gentle, Director of Programmes, Leadership Foundation for Higher Education, 9th April 2014.
"Hi Colin, wow, what a great effort.  I love the book and am about to start its second read.
Had my attention from the first page.
Thought I would skim read but found myself reading carefully – something I rarely do.
Wherever you are in an organisation, you can lead, this book will help.
Finally someone has written about the real things that can make a difference at work.
I'm buying a copy for each of my staff – and there will be an exam.
I expected repetition of thought but didn't experience the book that way.
The suggestion not to jump around before a full reading had me skeptical (I always read the chapters that interest me most in books) – but I found myself reading cover to cover anyway.
Well done Colin, I expect this will be on the best business books list before the year is out.  If you were in America I'm sure it would make the Times Best-Seller List."
Diane Dromgold, Managing Director, RNC Global Projects,  Sydney, Australia, 23rd April 2014.
"This book is the most useful exploration of what it takes to be influential that I've ever read. It is interesting, insightful and practical. Colin has succeeded in creating a book that is genuinely developmental for the reader. It is a satisfying and engaging read and I will be recommending it to others."
Sally Bibb, Writer and founder of Engaging Minds, 13th April 2014
"Finally, a comprehensive and yet, easy to read guide for anybody who is serious about becoming an Influential Leader. In this book, Colin has managed to successfully bring together the latest evidence-based theory and practice in areas like management, organisational behaviour, social cognitive psychology, ethics and systems theory to create a book which flows effortlessly for the reader. By following the practical exercises and reflecting on the case studies, the reader will come away with a clear understanding of the capabilities that best describe an Influential Leader and feel compelled to take action in her own personal development and hone those areas currently holding her back. I'll be sure to use this book in my own Executive Coaching practice and leadership development workshops. Well done Colin, and thank you for being an example of an Influential Leader!"
Ruby Campbell, PhD, MBA, Managing Director, Proveritas Group, NSW, Australia, 8th May 2014
"Having read and enjoyed Colin's earlier books, I was expecting this to be a similar approach. Previous books have provided pithy insights into situations and offered perspectives on approaches to dealing with them. I find myself often dipping in and out for specific advice on issues that arise.This book is different in that it offers a much more rounded view of influential leadership and is thoughtful and thought-provoking.
Having read it once from start to end, I'm about to read it again so I can take my time to pause in some of the areas I found most challenging or intriguing. I particularly found the section on thinking about self relevant as it helped me challenge some faulty assumptions I was building my broader thinking on.
This isn't the book for someone who just wants a fast read that requires little from them. To gain the most from this you need to be prepared to do some real thinking and to challenge your current assumptions. I can already see how I might use it as an aid to mentoring and coaching, as the individual sections would work well in helping people think about and articulate their circumstances and how they deal with influencing and issues of leadership."
Aline Hayes, Director of IT, Sheffield Hallam University, UK, 1st May 2014.
"Influential Leadership offers a range of practical skills, techniques and questions which will help any leader in a range of situations to reflect on, and develop their own approach.It's as relevant to the challenges in a formal leadership setting such as a local authority as it is to the challenges for those in the paid charity sector or the informal world of church leadership. It offers some salutary questions to help us all reflect on what we can do better – and should help all of the organisation we touch in the various parts of our lives to be better and clearer about our missions, and how we achieve them. One for any leadership book shelf!"
Jane Earl, Chief Executive, Rich Mix Cultural Foundation, UK, 
"I absolutely did think it was worth the wait, you've done an excellent job with it. The structure flows really well and you cover an impressive amount of material — succinctly, but without it feeling shallow. I love the Getting Things Done sections and your bullet lists and lists of questions are really great, practical and reflection-provoking features. And I don't know why you
might think I wouldn't like your concluding chapter, I love it! So very well done all round.
Liz Gooster, (former) Managing Editor, Kogan Page.
Purchasing Influential Leadership
You can buy this book through all major book retailers in all formats. Here are the main Kogan Page links for different countries:
Search on Amazon:
United Kingdom:
United States:
Australia / New Zealand
---
Colin Gautrey is an author, coach, and trainer who specialises in the practical use of power and influence in large organisations. He has 25 years' experience helping middle/senior professionals to survive, thrive and enjoy their work.

---