In order to maximise your success, you need to be able to understand and influence decisions made by informal groups which exist in your organisation, particularly those with power.
Formal Groups
The formal structure of your organisation is often based on the primary functions. Additionally, you can get cross-functional groups. This is the way in which power is officially distributed around the organisation.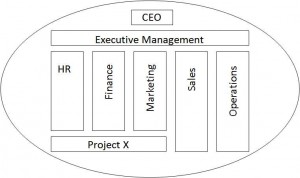 The CEO and the executive team will decide how to structure the organisation to achieve its objectives. They will also decide how these functions operate and the key principles about how they should work together. These start to define the formal decision-making processes. For example, it is often stipulated that you cannot decide on your function's bonus award without sign-off from the HR Director.
Put another way, this is how the organisation structures the formal power assets among different teams and individuals.
Informal Groups
As people seek to influence, they tend to focus on this formal side of the organisation. However, this is probably less than half the story. To be really successful, you need to understand the informal structures.
This can be very difficult to define because it usually emerges as an outcome of the social relationships of the people in the organisation. Informal structures appear to be unplanned.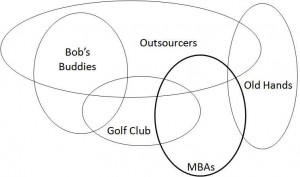 Informal groups can have a significant impact on the decision-making processes and they often have greater impact than the formal organisation. This becomes complex. Imagine overlaying the previous two diagrams and trying to make sense of it — yet this is what you need to be able to do in order to successfully navigate group dynamics.
Make sure and read Power and Informal Groups as a continuation of this page.
---
Colin Gautrey is an author, coach, and trainer who specialises in the practical use of power and influence in large organisations. He has 25 years' experience helping middle/senior professionals to survive, thrive and enjoy their work.
If you are ready to develop your influencing capability, become a member of Breakthrough Influence. If you are serious about becoming highly influential, fast, engage with Colin and he will help you get there in the most effective way possible.

---