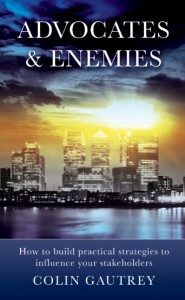 Extract from Advocates and Enemies (p101):
"Again, I'd like to stress that what I am suggesting here is a light touch risk/opportunity management process. Its primary purpose is to briefly pull you away from the people focus of the Stakeholder Influence Process. Viewing your plans from a risk and opportunity perspective may well make your success inevitable."
---
Colin Gautrey is becoming the most sought-after expert in power and influence by ambitious and talented professionals who are serious about accelerating their careers and their results. But, Colin is certainly not for the faint-hearted.
This resource is one of over 500 articles, and 50 hours of video content he has packed into his Breakthrough Influence Series of online courses.

---