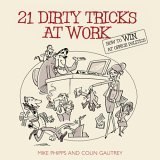 If you feel bad about office politics that go on around you, you are certainly not alone. In any group of more than one, people will be trying to influence each other and some people use less savoury tactics or dirty tricks, in order to get their way.
Here are some of the more common dirty tricks which people use. Many of them were featured in our best-selling book, 21 Dirty Tricks at Work: How to Win the Game of Office Politics. These are shared here not as a game tip sheet, but rather a preparation for recognising them for what they are (office politics) and then learning how to overcome them with honesty, integrity and a fair degree of assertion.
My Hands Are Tied
Pretending to be helpless due to the influence of a higher authority or process when, under the same circumstances but with a different person, there would be a different outcome. "Sorry, Ben, but the policy is…"
Email to the Gods
Using email to shame or coerce another. This is usually an email arriving from a colleague (which includes either true or false information), levelling accusations of blame, which are also copied on to bosses, directors, customers, suppliers, etc.
Tell Me More
The tactic of delaying decisions or honest disclosure by requesting more work, research or data which often includes the efforts of others.
Name Dropper
The tactic of coercing another by suggesting that friends in high places are supporters/detractors and will be drafted unless agreement is quickly forthcoming.
---
Workplace Politics Resource Centre
If would like to see the full catalogue, and get advice on how to counter these games and dirty tricks, take a look at the resource centre where we have arrange a great deal of valuable material to help you to manage the politics.
These include, two full webinar replays, plus many other practical articles:
Dirty Tricks and Office Politics (full hour webinar replay).
Handling Common Political Dilemmas (full hour webinar replay).
An Antidote to Office Politics (simple process you can use today).
… many more >>:
---