This is another opportunity to stimulate your thinking about the risks and opportunities that might have an impact on what you are working on. Unless you have a clear view (albeit perhaps a little vague), you will keep your head down and try to deliver on your project objective, rather than become more influential and successful.
Take a few moments to brainstorm all of the key things that could go wrong around your project. What might happen in the wider organisation which could cause your project problems? Then, spend some time considering the opposite; what are all the things that could happen which would really help your progress?
Risk stimulation questions
What crises could the organisation face in the foreseeable future?
What critical resources could be withdrawn?
Is there something that may change in relevant legislation that might affect what you are doing?
Are there any significant technology considerations which may impede your progress?
If your project wasn't to proceed, what would quickly take its place?
If you were the CEO, for what reasons might you kill your project?
What could happen that would really damage your progress?
Opportunity stimulation…
What are all the big exciting projects going on or being contemplated in the organisation at the moment?
Where is all the executive attention at the moment?
If one thing were to happen to immediately make your goal easier, what would it be?
If I gave you one wish (related to your goal), what would it be?
What event could happen which would really accelerate your progress?
After your brainstorming, review your ideas for risks and opportunities and note down in the space below the main ones which you think are worth paying attention to.
The risks and opportunities you consider here do not have to be outside of your project. If something can happen within it – like some key resource might resign — put it down here so you can think about what to do in case it happens and/or when it happens.
For example…
Bruce was aiming to launch a new product and everything looked to be going well. When he did his risk management, he realised that one of his critical resources (actuarial people) would be swallowed up in the preparation for the new EU reporting standard. The business had not yet finalised its response to that change. Realising this, Bruce quickly accelerated the timeline for actuarial input and used his influence to adjust the priorities, so his work was complete before the actuaries disappeared.
Once you have got a provisional list of all your risks and opportunities, you can move on to assessing them on two dimensions – likelihood and impact. It is important to remain focused on your goal when doing this, even though some of the risks and opportunities may be entirely independent of your Influencing Goal.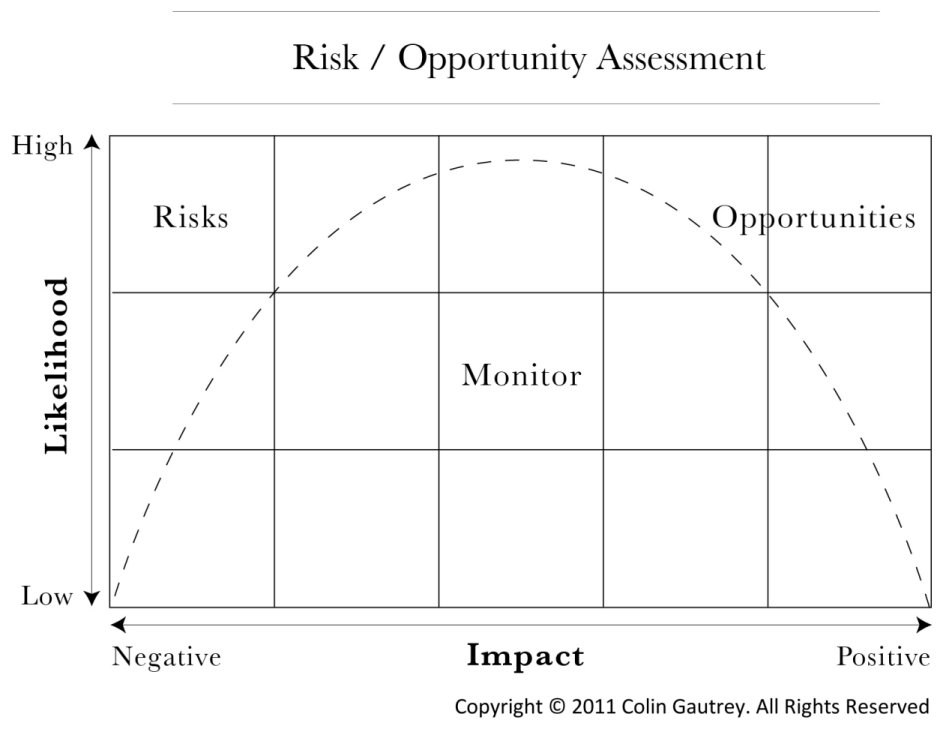 Likelihood
This dimension reflects your opinion on how likely it is that the risk or opportunity will materialise. Although simple in concept, it is a little more tricky when you come down to trying to assess this probability, particularly for those where you have no direct insight or connection. Sometimes, it is necessary at this stage to pause while you get input from other people who have greater knowledge of the situation.
If you are in a big hurry, take a guess and see where it takes you. Then come back later and reassess the position of the risk or opportunity. The information and intelligence you collect in the meantime will help you to become more accurate when assessing the potential impact on your Influencing Goal. But if you haven't got it noted down somewhere, there is a significant risk that you'll forget to reassess it!
Impact
At its simplest, this means – how much could each event help or hinder your project or goal? You need to determine the nature of any impact, as well as its severity, and this can become very complex in a short space of time. For significant risks, particularly with high likelihood, this would be an extremely worthwhile endeavour. Unless you really get to grips with what could happen, you could be accused of sticking your head in the sand. Equally, attending to the big opportunities could save you a huge amount of time and energy if they came to pass and you were well positioned to benefit from the event!
Sticking with a practical approach, use your gut feeling to estimate if the impact will be either positive or negative, and how strong that impact will be. As with likelihood, you can seek further input if you need to. Most of the time, however, your first and quick assessment will probably be the most useful and time effective.
For each risk you identified which could affect your goal, make a decision about the level of impact and likelihood – then plot the title on the grid shown above.
Once you have entered each event on the grid, the bigger picture will start to become clear. You should place a high priority on any risks or opportunities outside of the semi-circle. Those with either high positive or negative impact on your goal which also have a high likelihood of happening are worthy of your attention right now.
Don't get too concerned about the precision: more important is making a decision about any actions you should be taking now to reduce the likelihood of the risks and increase the likelihood of the opportunities. Any action you can conceive to move your project forward needs to become a priority for your work.
The project managers among you will instantly recognise these as mitigating and contingent actions. For everybody else, just remember that my advice here is to stick to a simple approach to making decisions about what you are going to do to increase your risk of success!
For each event you need to do something about, decide what action you are going to take. Indeed, this may result in a whole new Influencing Goal and a new application of the Stakeholder Influence Process!
Again, I'd like to stress that what I am suggesting here is a light touch risk/opportunity management process. Its primary purpose is to briefly pull you away from the people focus of the Stakeholder Influence Process. Viewing your plans from a risk and opportunity perspective may well make your success inevitable.
Another Example…
For some months, Sanjay had been pushing hard for his directors to agree to his expansion plan in South America. In recent weeks, he'd heard in the news about growing political unrest in the area he wanted to move into. This could provide the board with a compelling reason to prevent the expansion which he had worked so hard to establish. The impact was high and from what he'd heard the previous day the likelihood was rising fast. Sanjay decided that he needed to reposition himself and proactively raise his concerns with the board. It would have been easy for him to do nothing; however, the repositioning could increase his credibility with the board and help his long-term success. Although it was a disappointment, greater good could come from a swift change now rather than the embarrassment of being turned down.
---
Colin Gautrey is becoming the most sought-after expert in power and influence by ambitious and talented professionals who are serious about accelerating their careers and their results. But, Colin is certainly not for the faint-hearted.
This resource is one of over 500 articles, and 50 hours of video content he has packed into his Breakthrough Influence Series of online courses.

---