At times the power games and political manoeuvring appear undecipherable. An implicit feature of politics is that of imperfect information — not many know what is really going on. And the actors often relish and encourage that. Mere mortals should keep out of the way, unless they serve as useful and expendable pawns.
In this article, I'm going to extend on the previous one in this series (Understanding Your Reputational Context) and increase the ante by sharing with you a process whereby you can apply Scenario Planning to deepen your insight and hopefully, foresight.
Keeping it simple, Scenario Planning is an approach which begins with the question, what could unfold here? Then it goes through a series of steps to determine a sound (hopefully) strategy and action plan for right now.
Tailoring it to political uncertainty is fairly easy. In your organisation, what political outcomes could there be? Some examples:
The business will fragment into a number of Strategic Business Units.
The Finance Director will be promoted to CEO.
One of the two key products will be split from the main company and sold to a competitor.
Nothing will change in the next two years (always a possibility).
Action 1: Pull together a possible list of two or three options and then consult with a couple of friends — what do they think?
This will help to fill in gaps, make sure you've not missed anything and, most importantly, help your friends start to get their heads around the uncertainty too. One important thing to remember as you consider these is not to dismiss options too quickly. Even the outlandish can happen. In fact, I would recommend you keep a full list of all the ideas even if you don't actively work on them.
Action 2: Assign probabilities to each scenario you have identified.
Again, help from friends will really add value. Of course, you need to keep these under regular review, and this is where the next action comes into play.
Action 3: Think carefully about what you might notice if one of your scenarios is starting to materialise.
To help you on this, take each option in turn and imagine that it has come true. What would you notice that is different? How would people be behaving? What announcements would have been made recently? What other things would be changing? Who would be in favour? What changes would they be making? As you think about these types of questions, start to develop ideas about what things you can observe in the run up to that scenario coming true.
For example, if one of your options is that the Finance Director is going to become the new CEO, several weeks before this is announced it is likely that you'll notice him in increasingly good humour. He'll also start to get even busier, delegating more of his work to subordinates. Meeting with senior people from other parts of the business that he doesn't normally see. Having unusual meetings, perhaps several in one week with key shareholders.
As my good friend, Gary Ranker says, this is about turning on your political antenna. Absolutely right, you've got to start picking up on the clues, because…
Action 4: Develop your own plan of action.
Yes, this could include dusting off your resume and doing absolutely nothing — yet, the permutations are endless; however, if you have really applied yourself to the other actions, this step could end up being both obvious and a career saver!
---
Colin Gautrey is becoming the most sought-after expert in power and influence by ambitious and talented professionals who are serious about accelerating their careers and their results. But, Colin is certainly not for the faint-hearted.
If you want to move forward with greater impact and influence, make sure and stay up to date with the latest insights> and practical ideas by subscribing to the Influence Blog.

Other articles by Colin:
Six Pillars of Political Mastery
Like it or not, politics is a key part of your work, especially at middle to high levels in large or complex organisations. There is simply no way of avoiding it.
Why?
Because your work was created by political ambition. At some point, someone thought it would serve their purpose if they created your role. What that purpose was, and how pure it was might be difficult to see.
In all probability, that person also had to overcome opposition to create your role, to win the budget, the approval and also, to maintain it.
All of these things require influence, or politics. The words are really the same, as are the actions. The main difference between them is the intent fuelling the action – and the harmful consequences tolerated…
---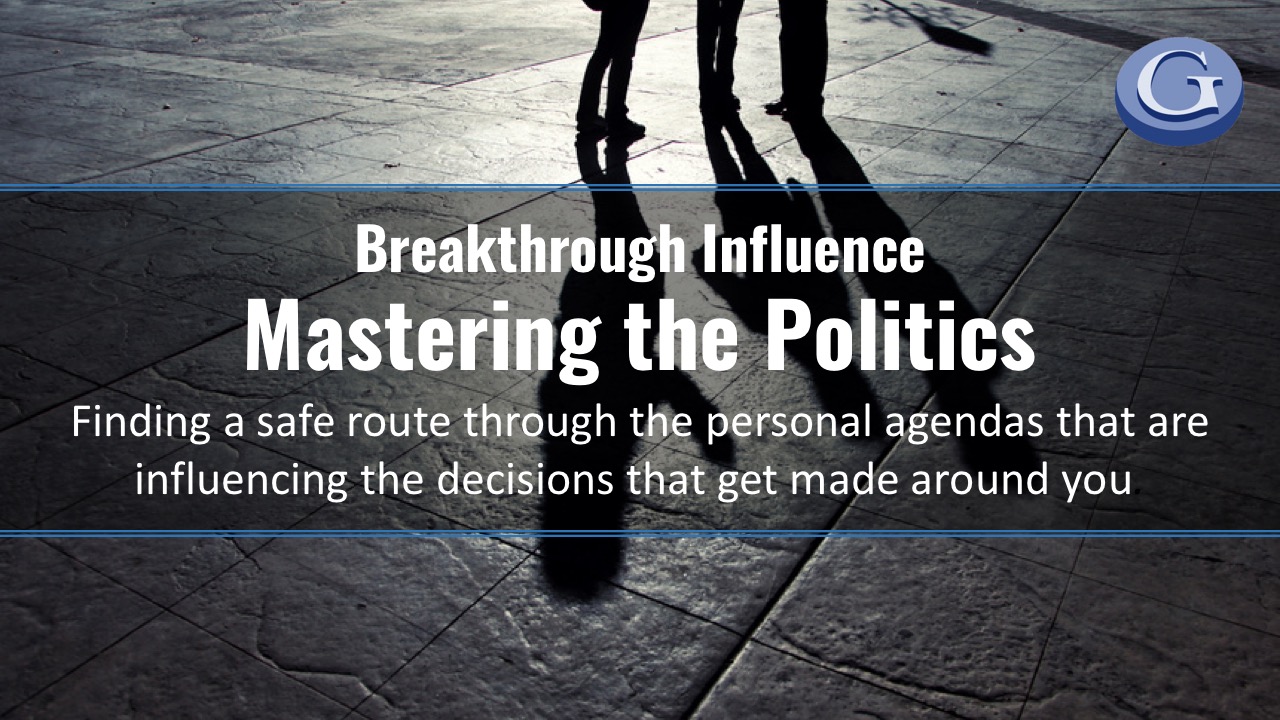 Here, it is vital to be able to peel back the layers to expose what is going on beneath the surface, the good, the bad and the ugly. With careful analysis, it becomes possible to see what is motivating people, and how it affects what is happening. At that point, your level of accuracy rises, your stress lowers, and the path towards your goals becomes clear.

---
Handling Conflicting Agendas
When you are clear about what you want to achieve, it is often frustrating to find that others do not share your enthusiasm. A great deal of time and effort is expended building the case, considering the risks and planning the execution. Everything seems to make sense and you are keen to get going – you want to implement swiftly. Then the problems start.
Reaching out to your stakeholders, you begin to find out that some are not interested. They fail to buy-in to your project or, worse, don't even give you the time to explain your plans. When you do get to see them, they start to share insights with you about other things going on elsewhere in the organisation, which seem to be in direct conflict with what you are working on.
Trouble is, you can see that they may have a valid point. Doubts begin to…
---