There are two ways to start analysing your networking. The first is to consider all the different groups of people who could play a part in achieving your purpose. It is important not to name people at this stage so that you can keep an open mind to new connections.
Take a step forward in time and imagine you have arrived. What sort of people would have been helpful in your journey? The diagram below is an illustration of how you could draw this out. In this example, becoming recognised within the industry could be helped by media editors. Editors like writing about movers and shakers in their industry. They also like to receive free articles written by people who know what they're talking about. Basically, they provide a PR platform. The academics could be useful in helping to raise name awareness among people entering the industry. They may also be very interested in putting practitioners in front of their students to share the realities of life in the industry.
The idea here is to move from your purpose to all the different sorts of people it would be useful to know so that you can give networking a little more direction. For many people, the purpose will be within their organisation, so it would be more suitable to jot down the different key departments or divisions, like Sales, HR, Finance, etc. As with many of our exercises, talking it through with a friend could help to identify more groups. Although it may be tempting to just pull out the organisational structure chart, making your own map will ensure it stays relevant. You may also feel it is important to add any informal groups you are aware of, like the cycling club.
Once you've mapped the territory in this way, you can then consider how your current network matches. The gaps then become contenders for your time to network!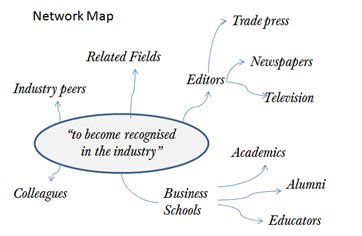 ---
Colin Gautrey is an author, coach, and trainer who specialises in the practical use of power and influence in large organisations. He has 25 years' experience helping middle/senior professionals to survive, thrive and enjoy their work.
If you are ready to develop your influencing capability, become a member of Breakthrough Influence. If you are serious about becoming highly influential, fast, engage with Colin and he will help you get there in the most effective way possible.

---