If you are working on either side of an outsourcing relationship, chances are that life is none too easy at the moment. Many people we talk to complain of the win-lose attitude that quickly develops after the deal has been done — each side looking to improve their own results at the expense of their "partner".
Anna: "We need you to do this — why haven't you done it?"
Carlos: "It's not specified in the contract. Of course, we could do it, but it will cost you extra".
Anna: "Yes, it is in the contract. We expect you to do it — and we're not paying extra!"
We can easily speculate that Anna (on the client side) is representing the business users and is under pressure to get the service up and running. Now she is faced with the prospect of having to go back and ask for more funding — or simply fail to deliver. On the opposite side, Carlos is likely to be measured on fees generated and rewarded on getting the best return from his resources.
The original vision of a strategic partnership seems to have evaporated like a dream as the escalation begins — or maybe it remains up in the clouds rather than down on the ground where a contract culture is emerging rapidly! The relationship between Anna and Carlos seems to be of little importance as the escalation process gains momentum. And it's the relationship aspect of major deals which we believe is the missing link in outsourcing agreements when they turn sour.
The Devil Is in the Detail
The reasons why this happens are many and varied, but perhaps the most significant one is the natural and understandable need to specify everything in advance — yet in equal measure the impossibility of covering every eventuality.
History shows a strong track record of deals breaking down because the contract failed to match the expectations of one side or the other. Those involved increase their vigilance next time and so the pressure builds to capture every possibility. However, this is unrealistic — even the UK legal system with its thousand-year history is still peppered with loopholes.
Finding the Holy Grail may indeed be easier than specifying a comprehensive contract — and this applies as much to the small deals as it does to the big ones.
Commercial Necessity
The recent economic turmoil has focused even more attention than usual on profitability (or at least survival). Therefore, every executive has pushed pressure downwards to reduce costs and increase revenue. This is working on both sides of outsourcing deals and creates incompatible objectives.
The real dilemma here is short- vs. medium- and long-term profit. Many executives are rewarded primarily on a short- to medium-term basis. To these people, the benefits of securing short-term gains in the relationship at the expense of the long-term strategic goal are understandable — albeit rarely admitted!
The Partnership Myth
Falling out of the above is a subtle point which can have a surprising impact on the attitudes and motivations of those working within the relationship. The vast majority of big deals are described as partnerships — yet very few actually are. While many readers may cry that this is just semantics, hold fire for a moment.
Words and labels have a powerful influence on people. The way they interpret them, the feelings they evoke and the actions they inspire can have profound effects. Partnership is usually defined as "a contractual relationship between two or more parties to share profit or loss in an enterprise".
Outsourcing deals are contracts for the supply of services, not profit and loss sharing agreements. This means that the very structure of these agreements creates incompatible objectives at the highest level. Of course, we've got to work together to achieve our goals, we can't do it alone. This means we collaborate — "to work with another or others on a joint project for mutual benefit".
The subtle impact of using the partnership word is it's a lie. Sorry, but it isn't true and nobody believes it — deep down they know they're competing to make as much profit as possible for their organisation. Holding on to this myth stifles open dialogue and leaves individuals to work out for themselves what to do for the best. It also sets up a culture of not facing reality — potentially setting the scene for distrust to grow rapidly, both inside each organisation and between both parties.
Controlling the Uncontrollable
The bewildering level of complexity in which most outsourcing deals have to function is incomprehensible for most people — to say it is ambiguous would be an understatement! On top of the usual challenge of multiple cultures (national, corporate and sub-unit), you also have the vagaries of process and potential legislative anomalies.
Corporations have been managing these dynamics (one way or another) since they went global. The big change with outsourcing is the opposing objectives of the two sides. Before the outsourcing deal at least everyone was working toward the same objective — well at least in theory! Now suddenly an outsourced function of the organisation passes into the control of another party. While the strategy is to work together for mutual benefit, at the highest level the objectives conflict.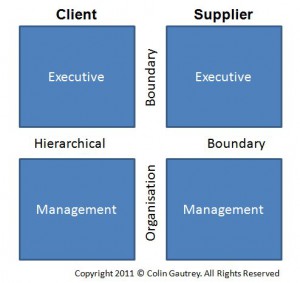 This level of complexity creates at least two opposing forces within each organisation. At the operational level, people are trying to remove enough ambiguity to be able to work within the relationship and get the service delivered for their local customers — i.e., those breathing down their necks! Without the interest, the capability, or time to act for the good of the whole organisation, they naturally apply their practical skills to making things happen for those closest to home. Yet, up at the strategic level, they need to apply consistency to leverage the full value from the global relationship, which means insisting on policies, procedures and controls which are good for many, but never for all. The desire to control when the heat is turned up is immense — and understandable.
The trouble is, local people have far more ability to do what they want to suit their needs than the top executives would like to admit. Their room to manoeuvre is great, particularly if they are providing a great service for their local CEO! Whether or not it is formally recognised, a matrix problem is at work here.
In most cases — at least initially — both sides want what's best. Usually, operational managers clamour for guidance and policies. They want to have the ambiguity removed so they can defend the global strategy from their local CEO who is focused on their profit and loss. Executives want to be able to give this guidance, but often fail to resolve this because of the devilish detail!
The outcome may be another hit at the level of trust within the culture, and shows that the missing link — COMMUNICATION — can often be absent within an organisation as well as between organisations.
Helping Anna and Carlos
Most people will be able to identify with the problem for Anna and Carlos (and their executives) and recognise the role played by complexity and the missing link. It is a different challenge working out what to do about it.
Based on our work on influence — specifically in relation to inter-organisational relationships — we have found that four complementary areas will maximise the benefits for everyone, if given sufficient attention:
Right Attitude. From the top to the bottom of the organisation, ensure that the collaborative attitude pervades and is reinforced (with action) regularly.
Build Trust. A delicate but worthy investment. When you have strong trust, both sides can work quickly through the difficult and inevitable issues, without having to guess what's really going on.
Balance Control and Flexibility. Find ways to temper the desire to control when it is not feasible, and empower managers with guiding principles rather than unrealistic edicts.
Enhance Relationship Skills. Through training, education and example, help both sides to develop their capability to rise above the technical/contractual response and grow their long-term relationship, whilst working through the short-term issues.
The final tip is not to over complicate your approach. Sure you need to take the necessary governance policies into account, manage down your risk, but you also need to get moving. Whatever your position in the organisation, you can start making positive progress today on the points above — don't wait to agree perfectly with the other side, because it will never come. Instead, work quickly to take simple actions that can make a growing difference in the quality of your relationships. That will start to turn the dream of collaboration into reality, while also creating a space where there is fun and an invigorating place for talented people to thrive!
---
Colin Gautrey is becoming the most sought-after expert in power and influence by ambitious and talented professionals who are serious about accelerating their careers and their results. But, Colin is certainly not for the faint-hearted.
If you want to move forward with greater impact and influence, make sure and stay up to date with the latest insights> and practical ideas by subscribing to the Influence Blog.

---