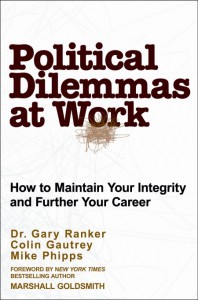 A practical, comprehensive guide to dealing with the complexities of politics in the workplace. Political Dilemmas at Work gives managers and leaders a comprehensive playbook for dealing with politics in the workplace. Ideal for anyone who works in a modern organisation, particularly managers and leaders, the book shows individuals how to deal with political situations in constructive, healthy and assertive ways. The situations in this book will be instantly recognisable to most experienced managers, but the solutions that readers will find here are fresh, powerful and effective. Based on the authors' experiences as coaching managers, they offer practical tools and real-world tips for turning dilemmas into opportunities. Required reading for ambitious professionals in any industry, this is a practical and effective guide to surviving negative political situations at work with integrity and tact.
What you'll find inside Political Dilemmas at Work
The world of work is political. This is because organisations are social entities. Political activity within any group can be either negative or positive. By recognising this and taking positive action to improve your influencing skills, you can turn political dilemmas into opportunities, while maintaining your integrity and furthering your career. This book shows you how.
Based on the authors' extensive experience of working with senior executives around the world, Political Dilemmas at Work brings to life the real dilemmas which are experienced by managers and executives as they progress in their careers. Rather than dwell on the theory, this book goes straight to the action required to resolve the dilemma and turn it into an opportunity.
The dilemmas covered include…
Political Rival: You've always played it straight and got good results. Now you're up against a strong and cunning political rival who seems determined to derail your success.
Spin Doctor: The president is due to arrive, and your boss has told you not to reveal a serious flaw in the proposal — use a bit of spin.
Victoria's Secrets: You've got the inside track on a big issue, you are bound by confidentiality — but they keep on asking.
The Apprentice: The new guy has arrived and is strongly favored by the CEO. He is creating lots of disruption for your team.
Turf Wars: Two powerful people are fighting to win control of your function — and you are caught in the middle.
In total, twenty dilemmas are uncovered and you are provided with clear guidance on what to do to overcome them. All of this is brought to life with the stories from executives at the fictitious Xennic Corporation.
The skills required to resolve these dilemmas are summarized as the authors present a new Charter For Career Success.
Author's Note: Since publication this book has proved to be a great hit with our readers. More strategic in purpose than our original book (21 Dirty Tricks at Work this is ideal for middle to senior level people who either want to protect their careers (and let's face it, who doesn't), or find a way out of a dilemma they have right now.
Available from Amazon and all good stores
---
Colin Gautrey is an author, coach, and trainer who specialises in the practical use of power and influence in large organisations. He has 25 years' experience helping middle/senior professionals to survive, thrive and enjoy their work.
If you are ready to develop your influencing capability, become a member of Breakthrough Influence. If you are serious about becoming highly influential, fast, engage with Colin and he will help you get there in the most effective way possible.

---