The Stakeholder Influence Process is a sequence of steps which will help you work out what you need to do to achieve your goals when they are reliant on the agreement of other powerful people. It provides a simple framework to think through the situation you wish to influence, your goal, or the project you are managing. It will help you to figure out who is onside and who may be out to get you.
From that you can start to develop your strategy to accomplish your goal. This will probably involve engaging with people you may have overlooked before. Before starting the process, you may have considered them to be minor players or not even interested. Some of them may not be interested in what you are doing, but the Stakeholder Influence Process may uncover opportunities to collaborate for mutual benefit or, perhaps, simply bring their attention to all that they could gain from your work. If they are powerful people in your organisation, this alone could help you to reach your goal.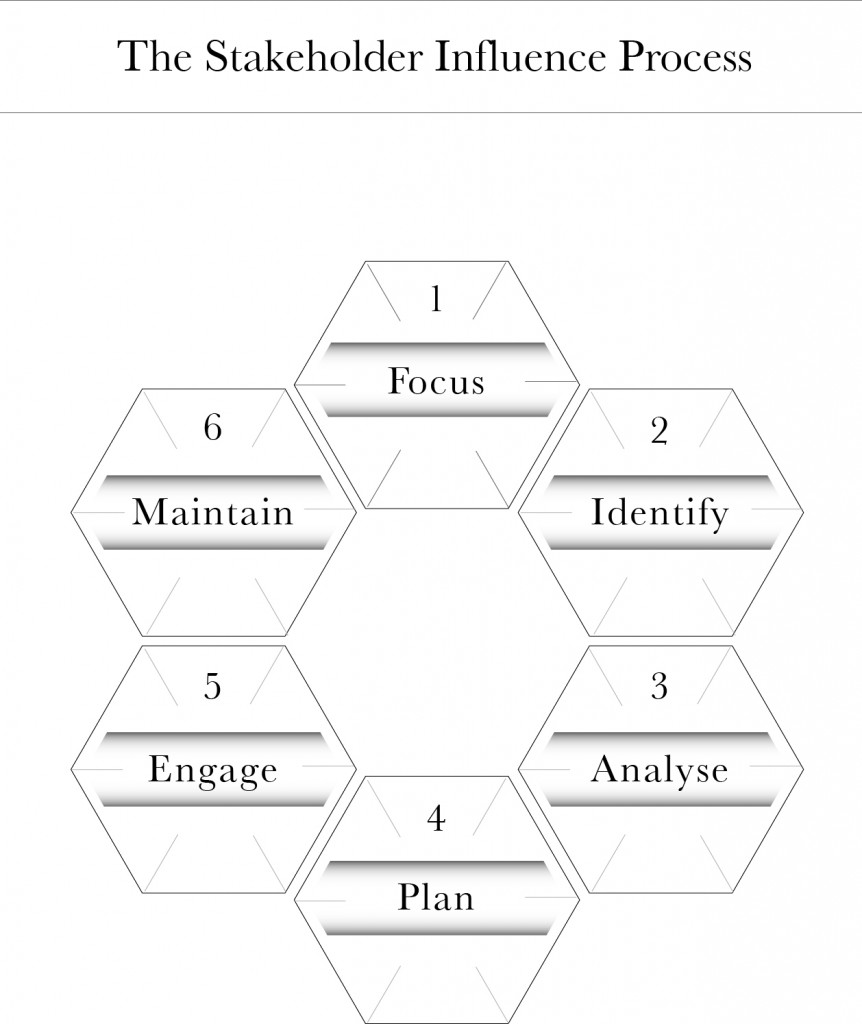 Focus: Assess your priorities and focus your Influencing Goal.
Identify: Work out which stakeholders can have the biggest impact.
Analyse: Map the position of each stakeholder.
Plan: Decide your strategy for increasing buy-in.
Engage: Adapt your approach to influence your stakeholders.
Maintain: Keep motivated, moving and refreshing.
Don't let the simplicity distract you. Within each step are some fairly profound principles, which add significantly to the potential of the process; principles established through years of practical application in a wide variety of situations. These will be explored in later chapters. Right now, I want to stress that this process evolves over time. You can speed through the process once and get new actions popping up all over the place. Then you can come back and do it again and go a little deeper. Each time you do this, there will be more things you can think about, more actions you can develop and more progress you can make.
The Stakeholder Influence Process is not about complex theories of human behaviour. Instead, it will focus on simple questions like:
What does each stakeholder want to achieve?
Why have you positioned them there?
What's the history?
Exploring the answers to these questions and more, around a simple framework will quickly help you to discover the key moves you need to make. Usually, these moves can be achieved with your current skills. Most people don't need to develop new skills. Often it is simply a question of applying existing skills in different ways or with a different focus. Sometimes you just need to do what you have been avoiding for far too long, and the Stakeholder Influence Process will help you to see that and then get on with it!
To be totally frank, the key here is in gaining the awareness of what you need to do. There is no deep psychology, just a simple process which demands crisp answers to basic questions. And it gets results time and time again.
And to continue being frank, this process is not suitable for everyone. To get maximum value out of this approach, you probably need to be able to tick most of the following:
You recognise that influence is a key part of your job.
You need to gain the support of a variety of different people.
Your goal has natural opposition.
Many different opinions exist about what the right answer to the question is.
You want to become more influential.
You are very busy at work.
You are able to just give it a go.
The most important item on the list above is the last one. Without this you are probably going nowhere. I cannot think of a single individual who has not benefited after making the effort of putting pen to paper and following the process. And it doesn't take much effort or time to make real progress.
---
Colin Gautrey is an author, coach, and trainer who specialises in the practical use of power and influence in large organisations. He has 25 years' experience helping middle/senior professionals to survive, thrive and enjoy their work.
If you are ready to develop your influencing capability, become a member of Breakthrough Influence. If you are serious about becoming highly influential, fast, engage with Colin and he will help you get there in the most effective way possible.

---